The Dalby Australian Stock Horse Sale, the largest stock horse sale in the world with Ray White as the selling agent.
In 1902, a man called Ray White opened his first ever store in the Darling Downs in Queensland. Sensing the opportunity to make use of the railway terminal at Crows Nest in Queensland, he launched his own auctioning business in a shed beside a railway line. There, he sold agricultural machinery and livestock for farmers, and over 120 years later his name is now seen in 8 nations, and on 1000 offices and represented by 13,000 members.
25 years ago Ray White's own grandson Paul White has picked up the reins of his grandfather Ray White's rural and livestock agency, and continues the story. That rural heritage is still central to the Ray White brand, with around 100 rural and livestock branches in Australia. Many of those Ray White rural and livestock members have a strong history with horses. As a result of this passion, Ray White Rural now hosts several horse sales throughout the year. Our ethos is always: working horses for working people.
The premier equine sales event for the company is the Dalby Australian Stock Horse Sale which will be celebrating its 46th anniversary this year (2020), in the same year that Ray White Rural celebrates their 26th anniversary. This year is the fourth year of Ray White as the proud selling agent.
The Equine Professionals You Deserve
FIRST WEEKEND IN DECEMBER | Dalby Showgrounds
Our Team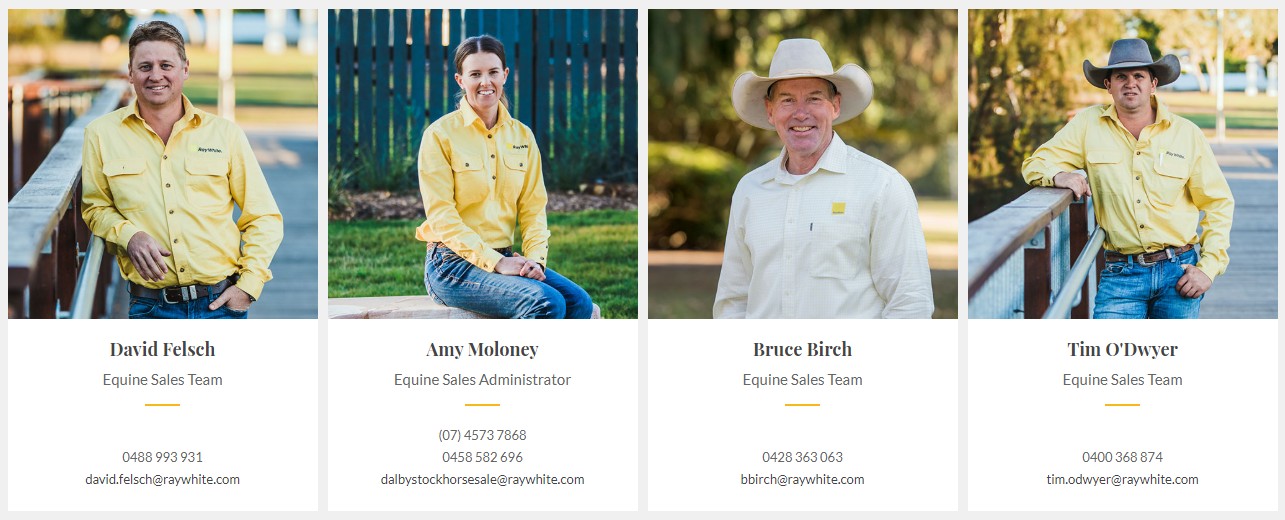 Be sure to follow us on Facebook for all updates!